Pet Stain and Odor Removal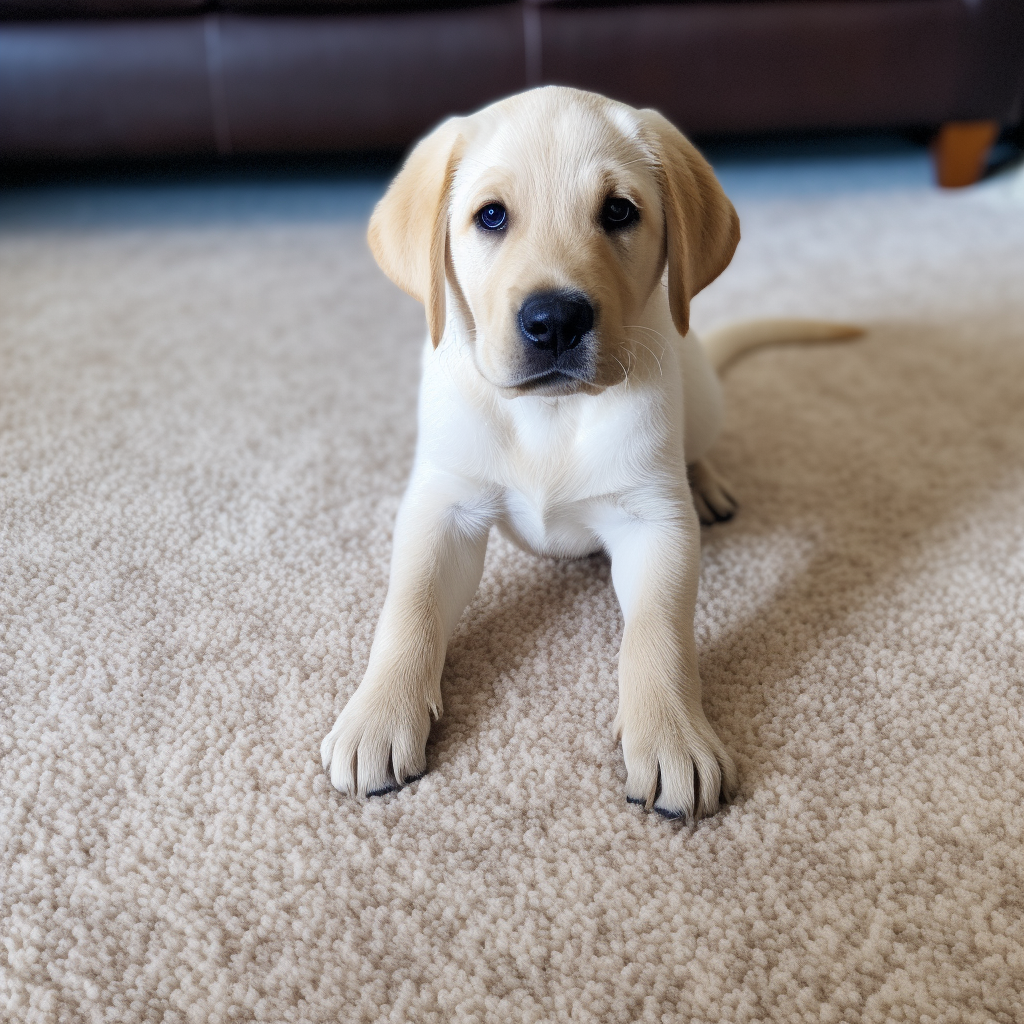 We all adore the cuddles and companionship our pets bring. However, we also know the occasional 'oops' moment is part of the deal. Accidents happen even to the most well-behaved pets. Fear not, we're here with advice and services to keep your home fresh and clean.
Tackling Fresh Pet Accidents with Ease
Absorb as much of the spillage as possible with an absorbent pad or thick towels.
Stand on the pad over the wet spot to soak up moisture.
Repeat with fresh pads until no more moisture can be absorbed.
Pour warm water directly onto the area.
Repeat the blotting process.
This approach works even if the accident isn't fresh and has started to smell. (Unless, of course, the urine has soaked through to the carpet pad.) Over time, repeated accidents can create a persistent odor.
Pet Odor: A Multilayered Issue
Frequent accidents can lead to urine seeping through your floor layers. When Fido marks his territory, he might just be soaking through:
Carpet fibers
Primary Backing (latex)
Secondary Backing (polypropylene)
Carpet Padding (foam rubber)
Sub-Floor (concrete or wood)
Even one accident from larger pets can penetrate multiple layers. In the most severe cases, the urine saturates the sub-floor beneath the carpet pad.
Light Odor Problems
Our hot water extraction process is perfect for minor odor problems. Our deep rinsing and topical deodorizing treatments restore freshness to your carpet.
Medium Pet Odor Concerns
For cases where urine has reached the carpet pad, our 'sub-surface' extraction process comes in handy. Specialized tools connected to our truck-mounted cleaning system freshen and deeply cleanse the affected area. Rest easy knowing the area will dry within 24 hours.
Severe Pet Odor Challenges
Severe pet odor problems, where urine has seeped into the subfloor, may require more extensive steps:
Carpet is pulled back and the pad replaced.
Carpet backing is cleaned.
Subfloor is treated or sealed.
When walls, baseboards, furniture, or drapes are affected, removing the odor may involve replacing baseboards or drywall.
Persistent Severe Odor
Long-standing severe odor problems can permeate porous surfaces in your home. To combat this, we offer a gas deodorizing process that engulfs your entire interior space.
E.O.N Gas (Extreme Odor Neutralizing)
E.O.N Gas is a potent oxidizing agent that neutralizes a range of organic odors, including urine. After a 12-hour treatment, your home is left with a mild, temporary scent of chlorine - no toxic residues remain.
Removing Pet Urine Stains
Whether faintly yellow or dark brown, most urine stains can be eliminated with proper treatment. However, there are times when urine stains cannot be removed from the carpet fiber, regardless of the treatment.
Adopt Our Pet Odor Management Approach
For most pet lovers, the joy of pet ownership outweighs the occasional mess. Partner with us to keep pet odors under control, even when repeated accidents occur:
Detect accidents promptly.
Tackle accidents quickly.
Use the right products and procedures.
Seek regular professional help.
While guaranteed odor removal can be expensive, our pet odor management approach offers a cost-effective alternative for pet owners.
Ready to take the next step towards a cleaner, fresher home? Give us a call at 806-544-8072 or 432-847-4600